Treat and Protect Scalp & Eliminate Cradle Cap!
Cradle Cap Cream:
Calm scalp redness, cradle cap, itchy scalp and dandruff with our natural, Cradle Cap Cream for babies. Scientifically formulated to protect and eliminate common scalp and skin conditions like dryness, dandruff, eczema, and cradle cap.
The clinically tested formula is light in texture, reduces flakes, limits excess sebum, and keeps baby comfortable throughout the day. Developed by a Mom, perfected by a chemist, reviewed by a Dermatologist.
Paraben-free • Phthalate-free • Sulfate-free • Dye-free • Perfume-free • Vegan
Active Ingredients:Coconut Oil, Jojoba Oil, Organic Calendula

Gentle Foaming Shampoo:
Our Gentle Foaming Shampoo for babies and toddlers, gently lifts and rinses away cradle cap flakes. Your little one will experience fewer flakes and dry scalp with each bath. Our proven formula contains salicylic acid, a natural exfoliant, which helps to effectively prevent and reduce cradle cap. Formulated with natural and organic ingredients and no harmful chemicals, making it both effective and gentle for newborns, babies, and toddlers.
Paraben-free Phthalate-free Sulfate-free Dye-free Perfume-free Vegan
Hypoallergenic: specially formulated to minimize the risk of allergic reactions

Active Ingredients: Salicylic Acid, Coconut

FDA Grade Silicone Scrubber:
The mini silicone soft scrubber is individually packaged. It is made with nubs that gently massage scalp, and help wash away flakes.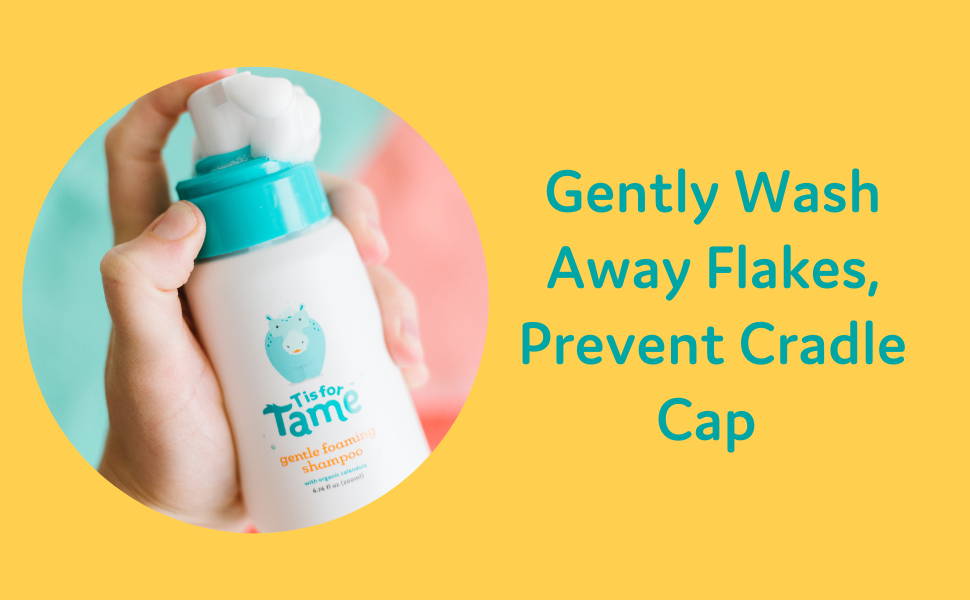 Gentle and Effective From Birth On
Our Scalp Soothing Cream and Gentle Foaming Shampoo for babies and toddlers, gently calms common scalp and skin conditions like dryness, dandruff, eczema, and cradle cap.


Our shampoo and cream are made in the USA and specially formulated for delicate hair and scalp. We take the safety and quality of our products seriously:
-Reviewed under the care of a dermatologist to ensure products are hypoallergenic and safe for sensitive skin
-Manufactured in Pennsylvania, in an FDA-regulated and cGMP-compliant facility specializing in personal care products
-All raw materials, components, production lines routinely inspected to ensure quality finished goods
-Reviewed by a panel of moms to ensure safety and effectiveness

Massage Scalp Soothing Cream onto the affected area of your baby's scalp, head or face before bed and leave on overnight. Rinse and brush the next morning with T is for Tame™ Gentle Foaming Shampoo and silicone brush.

Repeat for 3 days or until clear. Can continue to use to prevent cradle cap, dry skin or eczema from returning.
What Is Cradle Cap? Cradle cap is what seborrheic dermatitis is called when it appears on your baby's scalp.The skin condition can show up elsewhere, too, such as on your baby's face on the ears, eyelids, eyebrows, and nose, or on the body on the neck, armpit, belly button, legs, and groin.When the symptoms of cradle cap appear anywhere other than the scalp, your provider will refer to it as seborrheic dermatitis.

Is cradle cap contagious? No, it isn't contagious, and it generally isn't painful or itchy for your baby. Plus, it won't leave any scars or have long term side effects.
What Does Cradle Cap Look Like?Cradle cap typically looks like skin that has red, moist patches. It commonly appears in skin folds near the neck or behind the ears. It can sometimes look yellowish with greasy patches, or it might appear scaly or flaky.
What Causes Cradle Cap?It's not known exactly what causes cradle cap, but experts say it's not caused by poor hygiene or an allergy to something you're using.One factor may be that some of your pregnancy hormones have passed on to your baby before birth, causing the production of too much oil (sebum) in the oil glands and hair follicles, trapping dead skin cells.
Are you cradle cap products scented? No. We use no dyes, scents, or artificial ingredients.
Is it made in the USA? Our ingredients are all sourced from the US and the UK and our contract manufacturer is in Pennsylvania.

Have a question we didn't answer? Ask us here and we will get back to you.